Private Label Leather goods Manufacturer, Supplier & Exporter Company
We don't compromise with quality: A trusted Leather Goods Manufacturer & Exporter Partner for your brand
Searching for Private Label Leather Goods Manufacturers?. We are india's top high - Quality Genuine Leather products manufacturer & Supplier.
Jhanji Exports is a manufacturer of custom embossed leather products. We offer a wide range of leather goods on which your brand logo is crafted as OUR LOGO IS OUR SPECIALITY. As a veteran's private label leather goods manufacturer dedicated to the highest standards of handcrafted artisanship, we have one unwavering goal: to facilitate our customers in producing a design that satisfies their exacting expectations while also endorsing their brand. Add value to the end user's manner of living. As a full-service private label leather goods manufacturer dedicated to the highest standards of handcrafted workmanship, we're focused on a singular unwavering goal: help our customers create the a product with exacting specifications and help their brand contribute to the lifestyle of the end user.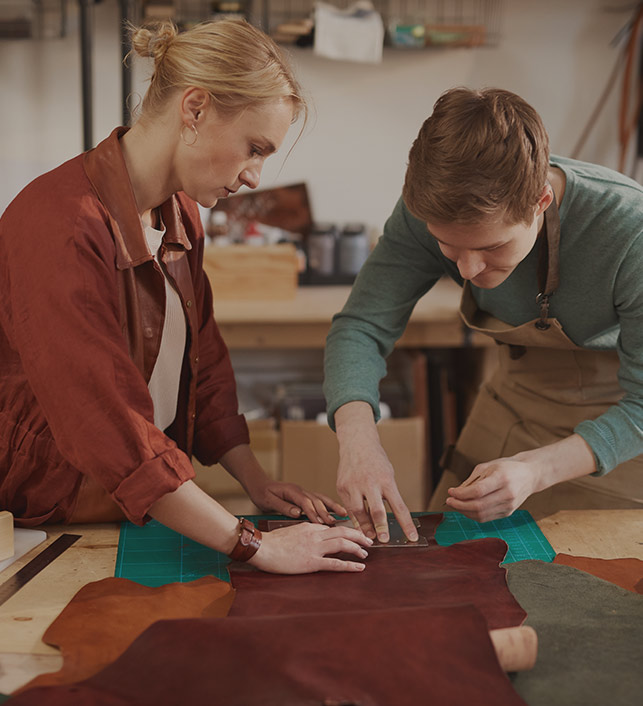 Why Jhanji Exports is Best Private Label Leather Products Manufacturer for you ?
As a Private Label Leather Goods Manufacturer for over 20 years, we have been improving our skills by working with one of the most honest materials known to man. We really enjoyed the natural beauty of the skin and got to know all of its properties and characteristics.
Along the way, we have gained important knowledge about how to work with living breathing material that is second to none. We have developed and redesigned creative and efficient ways to improve our artistic and efficient processes and make our manufacturing company more efficient and productive.
As a result, we know a thing or two of leather goods manufacturing and use this knowledge every day to enhance our leather products for your brand.
What we do offer in Private Label Leather Products manufacturing, as a Private Label made Leather Products Manufacturer & supplier
Private label manufacturing is one of our services. If you are a retailer thinking of taking your inventory to the next level by selling quality leather goods under your own brand name, we have a wide variety of bespoke and quality leather goods for your brand. We have something for everyone, whether you run a boutique, an apple accessories store, or a haberdashery. You are guaranteed to receive the same level of quality with every product you purchase from us. Your products will be branded with your personal logo or business name.
You can Also Explore our Leather Products Inventory while Clicking on the Below Product Category Image.
What We Do to Manufacture Private Label Leather Goods for Top Iconic Brands
Prototyping for private labels is available through Jhanji Exports Pvt Ltd. We have mastered the art and craft of designing and manufacturing bags and accessories for companies of all sizes and individuals. A private label leather goods business is one of the best options for businesses wanting to establish their leather brand as it saves them time and money associated with buying raw materials, setting up factories, and dealing with all the other production costs of a leather brand. Fortunately, we specialize in designing, manufacturing, and custom engraving the leather products for private label manufacturers, so you can focus on your business.  Our team will  help you create a successful brand by guiding you through various steps. Get in touch with us to learn more about our private label prototyping services for Purses, clutches, work bags, laptop bags, belts, or any other leather accessory.

PROJECT EVALUATION
Collecting data is only part of the evaluation process. Information about the product, including measurements, quantity, and attributes, will be collected. It is important for organizations to evaluate and design their leather goods in a way that prevents future production problems and delays. Furthermore, the fabrics used must provide optimum use of the leather without excess.

LEATHER SELECTION
We ensure our success by choosing only the finest materials and leathers. A quality leather goods need to suit local climates or color schemes in a country where the leather goods will be sold. Informing our customers about the quality of the materials is part of our service.

PRODUCTION
Our team makes your ideas a reality. We bring your Project to life so you can judge its aesthetics and durability. Having selected the materials you wish to work with, our leather goods manufacturing factory has all the equipment necessary to fabricate all types of leather goods right away. You can order as many samples as you want until you are satisfied with the final outcome.

PROTOTYPING
Prototyping Your Leather Project to Work Out Design Kinks. Throughout generations, our artisans have inherited secrets. We use ancestral techniques to make our leather goods, giving careful attention to details and paying special attention to every little thing. With our experience in producing leather goods for large international fashion brands, we are able to produce a wide range of luxury products such as handbags, wallets and purses, belts, small leather goods as well as an extensive range of leather goods.
HANDCRAFTED QUALITY CONTROL
Business plans should be based on quality. The quality of the final product is our top priority. Having a well-designed and well-manufactured product ensures that our customers will be satisfied, which improves the image of our company. Using our own factories as well as those operated by third parties, Jhanji Exports applies quality control services to major international fashion brands. Our experience in the world of fashion accessories and accessories provides us with a vast knowledge of quality standards.

MADE IN INDIA
Quality warranty, made in India. Our tannery is based in Kolkata and workshops are based in Delhi, the capital of India. Handbags and other leather goods are manufactured by Jhanji Exports for hundreds of international companies across five continents. The Jhanji Exports Pvt Ltd ensures that all of the products it produces are of the best quality. Jhanji Exports' leather has earned its fame with a long tradition of producing the best leather goods, which is why the company has been based in this town since its birth to benefit from the hands of best craftsmen and the best leather and materials.
Why We Are Different From Other Private Label Leather Products Manufacturer In India
Our company has established itself as a distinguished manufacturer of private label products for some of the most famous worldwide brands. These brands came to us with unique challenges that their brands faced.
We tailored solutions that met their challenges and worked closely with them in implementing a successful leather goods supply chain strategy. Our factory has the resources and experience needed to manufacture leather goods of the highest quality.
Founded in 2001, Jhanji Exports Pvt Ltd produces leather goods of exceptional quality. Our company's mission is to produce premium quality leather goods. Leather and suede are tanned by our own tannery in Kolkata, India, and used in each of our products after they have left our Tannery. Our leather Bags, Wallets, Belts, and Accessories come in a variety of colors and textures. Each time our customers place an order, we aim to provide them with Quality.
With your leather goods project(s) in hand, let us be your manufacturing partner and contract leather goods manufacturer. We will help you succeed in your sourcing