Handmade Custom Leather Goods & Accessories Manufacturing Service for Big & Small Size Company
Custom Leather Goods Manufacturer in India
Our Process to Manufacturer Leather Goods for Big & Small Size Company
This is a fourth generation, family-owned leather and textiles business.
Looking for Custom Leather Goods Manufacturer in India. Jhanji Exports Pvt Ltd is a india's best handmade custom leather products manufacturer.
We're With The Handmade Craftman : A Trusted Custom Leather Products Manufacturer & Exporter in Delhi, India.
Jhanji Exports Pvt Ltd is a leading Custom Leather goods manufacturer in India. Since incepted in 2001s, We are manufacturing all kinds of Leather Goods and accessories in our own leather factory located at Delhi, India. We have our own tannery for Leather Production located in Kolkata, India. A reliable, trustworthy, and consumer-focused leather goods manufacturer, our custom leather products is the top choice for brands and businesses.
With over 20 years of experience in the leather industry, our company offers the highest level of dedication and craftsmanship to our clients. Custom leather bags, backpacks, and leather goods from Jhanji Exports Pvt Ltd will suit your style and needs. The leather can either be altered to match an existing style – for example, by changing the size, shape, color, strap length, closure, pockets, or by adding personalization embossed initials – or it can be designed entirely from scratch.  Customizing existing leather goods from the CARV range won't usually incur a significant price increase if the changes are not huge; however, research and designing new items require more time and thought, so there will be an additional charge.
We are manufacturers of custom leather goods made with leatherwork traditions and innovations that meet high-quality standards. Featuring leather bags, wallets, small leather goods, and travel articles. As a manufacturer of custom leather goods, we specialize in each stage of the process from design to production. 
Using high-quality leather materials, we can turn your ideas into reality as a leather maker. Whether you need small quantities or large orders, we can work with both global brands and start-ups if you need custom leather products such as Leather Handbags for Men and Women, Leather Wallets, Leather Belts, or Leather Small Accessories.
We tailor our leatherwork to suit each customer's particular needs through custom leatherwork. Moreover, we manufacture leather goods from full-scale custom leather, even in the smallest quantities.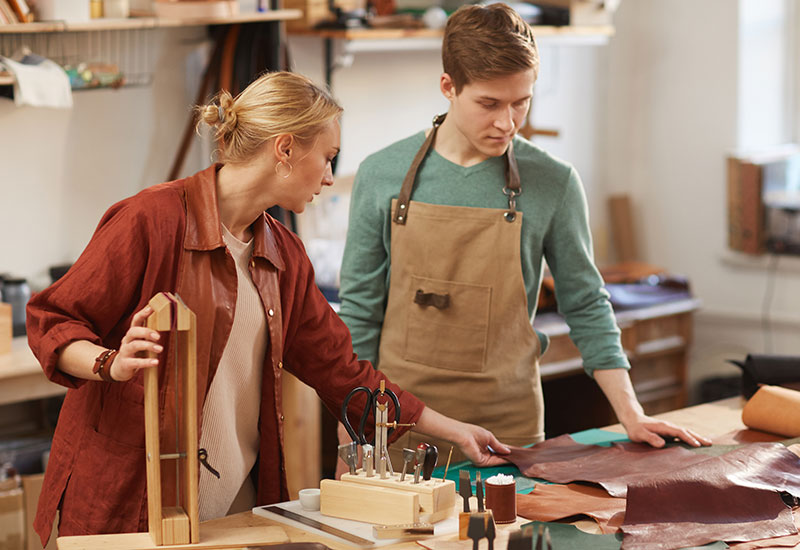 Customized Leather Goods & Accessories of Genuine Leather
Here What We Customize leather goods & Accessories
Our leather goods manufacturing service is available to meet any needs and we are solely focused on delivering solutions to those challenges. Using our two decades of leather goods manufacturing experience, we are sensitive to the unique manufacturing and sourcing challenges your brand faces. With our personalized leather goods, we offer a means for self-expression that we believe has the power to transform your life. We empower you to stand out with a diverse range of genuine leather accessories that you can customize to suit your style, personality, and voice with the option to stand by your identity.
Since we are transparent about our brand values, we also wanted to inform you about the process from design to creation of these leather goods.
Our Process to Manufacturer Leather Goods for Big & Small Size Company
Explore What we do offer in Custom Leather Products Manufacturing as artificial leather manufacturers in India.
We pride ourselves to drive the company as the top-notch quality custom leather goods manufacturer and exporter of all kinds of leather goods. All custom leather works is accepted at Jhanji Exports Leather, where we can make the design customized to your liking, including the leather and fabric materials, the hardware, and the metalwork. Our highly skilled craftsman having years of experience as an artificial leather products manufacturer. They are ready to fulfill every step from design to production, all under one roof. Accordingly, we are able to turn your ideas into reality using high-quality leather materials. We love working on custom leather goods such as Handbags, Wallets, Purses, Bags, Belts, etc…
We manufacture custom leather goods by transforming a simple sketch into handmade leather goods through our substantial experience in the leather industry. We have years of expertise in manufacturing custom leather, therefore we are able to translate our sketches into reality.

Project Evaluation
Collecting data is only part of the evaluation process. Information about the product, including measurements, quantity, and attributes, will be collected. It is important for organizations to evaluate and design their leather goods in a way that prevents future production problems and delays. Furthermore, the fabrics used must provide optimum use of the leather without excess.

Leather Selection
We ensure our success by choosing only the finest materials and leathers. A quality leather goods need to suit local climates or color schemes in a country where the leather goods will be sold. Informing our customers about the quality of the materials is part of our service.

PRODUCTION
Our team makes your ideas a reality. We bring your Project to life so you can judge its aesthetics and durability. Having selected the materials you wish to work with, our leather goods manufacturing factory has all the equipment necessary to fabricate all types of leather goods right away. You can order as many samples as you want until you are satisfied with the final outcome.

PROTOTYPING
Prototyping Your Leather Project to Work Out Design Kinks. Throughout generations, our artisans have inherited secrets. We use ancestral techniques to make our leather goods, giving careful attention to details and paying special attention to every little thing. With our experience in producing leather goods for large international fashion brands, we are able to produce a wide range of luxury products such as handbags, wallets and purses, belts, small leather goods as well as an extensive range of leather goods.

HANDCRAFTED Quality control
Business plans should be based on quality. The quality of the final product is our top priority. Having a well-designed and well-manufactured product ensures that our customers will be satisfied, which improves the image of our company. Using our own factories as well as those operated by third parties, Jhanji Exports applies quality control services to major international fashion brands. Our experience in the world of fashion accessories and accessories provides us with a vast knowledge of quality standards.

Made in India
Quality warranty, made in India. Our tannery is based in Kolkata and workshops are based in Delhi, the capital of India. Handbags and other leather goods are manufactured by Jhanji Exports for hundreds of international companies across five continents. The Jhanji Exports Pvt Ltd ensures that all of the products it produces are of the best quality. Jhanji Exports' leather has earned its fame with a long tradition of producing the best leather goods, which is why the company has been based in this town since its birth to benefit from the hands of best craftsmen and the best leather and materials.
Why we are Different from other Custom Leather Products Manufacturer in India
When we tailor leather for our clients, we work closely together with their designs, so that we deliver to original sample specifications. Our customers are actively involved in the design process during custom leather working and discussed each important topic in detail, such as leather quality, hardware, price points, lead time, and any other matters you may have in mind.
Our company makes custom leather goods, so we only emphasize custom leather items that are manufactured in a custom leather factory with high-quality leather so that customers may concentrate on their business.
The leather products that we produce at our factory are particularly beautiful and handmade. For custom leatherwork, we use many custom manufacturing processes to meet high-quality expectations. Having worked with both large multinational companies and small start-ups, we are trusted to handle all your leather needs, from mass-produced orders to small selections.
In addition to our custom leather work services, we also offer full-scale custom leather manufacturing of leather goods, even at extremely low minimum quantities. All our production happens in-house, so we keep control of the process from design to production.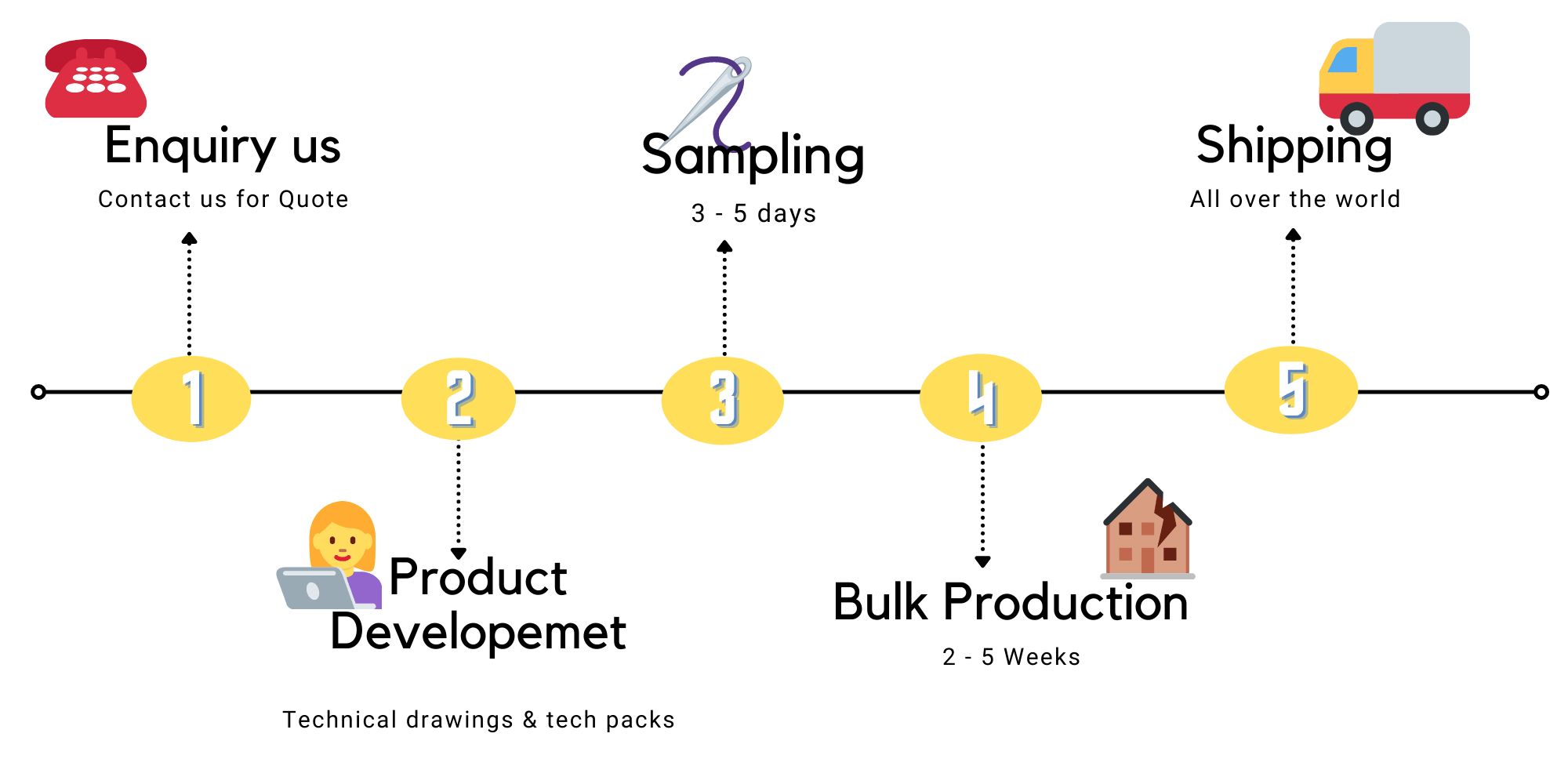 Getting hold of top quality Leather Goods manufacturers and exporting Leather Goods is not difficult with Jhanji Exports. Jhanji Exports are your best leather goods manufacturers & exporters of Leather Goods. We export Leather Goods Worldwide.